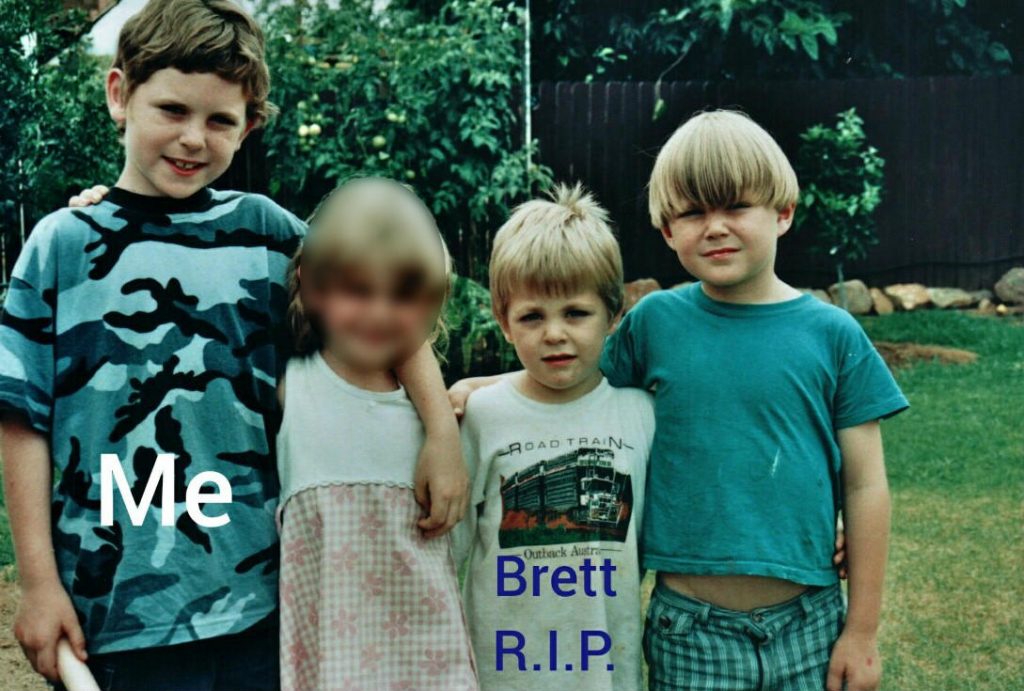 Jason and his siblings prior to being removed by Child Welfare.
We often think of our work as a David vs. Goliath fight. The very nature of what we do is going up against big institutions and governments to hold them accountable for what they have done to abuse victims.
The story of Jason Dobbie is no different.
Jason was born into a violent home. He was the eldest of four children. Jason's father was an extremely violent man. Jason did everything he could to protect his younger siblings from his father's explosive violence. He bore the brunt of the abuse until he was removed by the Department of Community Services (DoCS) into foster care. He was 11 years old at the time.
Jason cannot recall a time when his father wasn't violent. Years of living through this abuse left him with major depression and Post Traumatic Stress Disorder – an ongoing battle for a man who has experienced so much suffering in his short 29 years.
Jason's father claimed to be former SAS. He threatened to blow up the DoCS office in western Sydney. In December 2002 the police searched his home and found explosives, weapons, video cameras and other equipment. He was sent to jail in December 2004.
Jason's brother Brett committed suicide in 2015. Like Jason, the ongoing effects of his father's abuse had caused permanent damage.
Jason made a victims compensation claim through Victims Services NSW. Whilst Jason was in the midst of his claim his young son was going through cancer treatment and Jason's long term relationship broke up. His son got a flight with Make a Wish Foundation, but Jason couldn't afford to go with him. He was trying to get by on $30 a week, living in a hotel room, in worn clothes that he couldn't afford to replace.
This man's life was filled with so much trauma and heartache. He had suffered a lot.
At the time of starting Jason's claim, the NSW government was planning changes to reduce the cost of its victims' compensation scheme. Before his claim could be finalised, the NSW government suddenly and retrospectively changed the law by implementing the Victims Rights and Support Act 2013 (NSW). This slashed the maximum award for psychiatric injuries to one tenth of what it was before.
An election campaign promise led to the government changing the law, allowing people like Jason to have their claims re-assessed according to the 1996 scheme. The Commissioner for Victims Rights was Ms Mahashini Krishna. She appointed a psychologist to examine Jason and give her an expert opinion on whether he met the threshold for Psych Cat 2 ($30,000 to $50,000).
The psychologist's report came back clearly stating that Jason met the requirements for an award for Psych Cat 2. However, the Assessor refused to accept the psychologist's opinion and awarded only $9,250 for the lesser category of 'Domestic Violence'. Kelso Lawyers applied for an internal review but the Senior Assessor also refused to accept the psychologist's opinion and affirmed the Assessor's decision.
To discourage challenges to reassessment decisions, the government prevented appeals to NSW Civil and Administrative Tribunal. This meant that Jason's only option was to apply to the NSW Supreme Court to have the decision quashed. The government was trying its hardest to ensure Jason wouldn't receive higher compensation for the horrific abuse he suffered.
Kelso Lawyers started court proceedings in January 2018. We took a big risk for Jason because we believed in his cause. The hearing was in May 2018, and the judgment was handed down by Justice Campbell in December 2018. All the while Jason's son was undergoing cancer treatment.
The Supreme Court agreed that the Commissioner's decision was wrong, and had ordered it to be re-done. Jason was overjoyed at this result, but the battle had only started.
When it came to Commissioner Krishna complying with the Court orders there was delay after delay. The date for the Commissioner to appeal the judgment expired, and still she delayed. Kelso Lawyers ended up filing in court for an order to enforce the judgment and compel the Commissioner to make an award.
In response the Commissioner engaged the Crown Solicitor's Office and briefed a barrister to appeal the judgment. The Commissioner argued that the Supreme Court could not order her to comply with the judgment by a specified deadline – Justice Davies disagreed.
The Commissioner sought to justify the delay on the basis that her employed solicitor broke his toe after the Christmas break. Justice Davies didn't think much of that excuse and made a costs order against the Commissioner.
The Commissioner applied to the Court of Appeal. On 21 May the hearing proved the extent the government would go to avoid Jason's reasonable claim. On the Commissioner's side of the bar table were three in-house lawyers, plus the solicitor from the Crown Solicitor's Office and their barrister. On Jason's side, standing there alone facing three judges in the Court of Appeal was Mr Ashley Kelso from Kelso Lawyers.
On 25 July the Court of Appeal handed down its decision dismissing the Commissioner's appeal. On 19 August the Commissioner awarded Jason compensation for the injury of Psych Cat 2. She also agreed to pay his full legal costs.
This money will make a real difference to Jason's life. He'll be able to get medical treatment that he had been unable to afford for years, take his children on a holiday, replace his torn clothes and fix his bike.
We are so proud of Jason for his persistence and trust in our firm – in the end he was awarded $42,000 out of a possible maximum payment of $50,000.
Big institutions and governments can be arrogant. They too often act like they are above the law. This is simply not the case.
We will fight relentlessly for you. We will not rest until the best possible result is achieved. We want to see you set free and the pressure taken off. We want to see you live the best life possible after experiencing something so traumatic.
Get in touch with Kelso Lawyers today. We want to hear your story.