However, on the 7th of April 2020, the High Court of Australia overturned his conviction. It was ruled that there was a significant possibility an innocent person had been convicted because the evidence did not establish guilt to the requisite standard of proof.
Pell was on the last legs of his appeals. It was his last chance for freedom, and he got it.
Within weeks, he was released and on a plane back to Rome, despite the COVID-19 international travel restrictions. This angered people all over Australia who were separated from their families. He was allowed to return to Rome on "official Vatican business".
While he spent a total of 400 days in prison, he then released a memoir detailing the "humiliation" of strip searches, but also the preferential treatment he was given by the guards. He was often given a glass of milk and was allowed to have his books and a tea kettle.
Pell had a turbulent history in the media. Here, we explore Pell's background and defining moments that lead to his conviction, his acquittal, and his return to the Vatican.
The history of George Pell
Image: Express Digest
Pell was born in Ballarat, Victoria, to a non-practising Anglican family.
His mother was Catholic, and his father was a heavyweight boxing champion.
His childhood was seemingly unremarkable.
In his childhood, Pell attended Loreto Convent and St Patrick's College. He played Aussie Rules as a ruckman from 1956 to 1959 before he signed on with the Richmond Football Club. He played with the club in the VFL Reserves before his sights turned to priesthood.
In 1960, Pell began his priesthood studies at Corpus Christi College in Werribee. He studied alongside serial paedophiles like Gerald Ridsdale – a friend for life.
He was known for being smart, sharp-tongued, and at times manipulative. He could win any argument with his peers.
He was a star student – he served as Class Prefect in his second and third years of study, and then, in 1963, he was selected to finish his studies at the Pontifical Urban University in Rome.
He was ordained a priest on the 15th of August 1966 at St Peter's Basilica.
When he returned to Australia, he served as an assistant priest at Swan Hill in northwest Victoria. Later, he also served in Ballarat East.
In 1987, Pell became Auxiliary Archbishop of Melbourne. He received his consecration from Archbishop Frank Little, with Bishop Ronald Mulkearns and Bishop Joseph O'Connell serving as co-consecrators.
In 1996, George Pell was named Archbishop of Melbourne after receiving the pallium from Pope John Paul II.
Pell's solution for child sexual abuse allegations in Victoria: the Melbourne Response
Image: Child Abuse Royal Commission into the Melbourne Response
Around the time of his consecration, institutional child sex abuse allegations were becoming more prevalent in the public sphere.
To keep himself in the Pope's good books, Pell set up programs to "support" victims of child sexual abuse, like the Melbourne Response and the Towards Healing Program.
The Melbourne Response was designed to encourage survivors of child sexual abuse to come forward, report the abuse, and receive support from the Catholic Church. However, support from the Catholic Church was limited. Compensation payments were capped at $50,000 initially, then later shifted to $75,000 and peaked at $150,000 as criticism mounted.
Survivors were also required to sign a deed of settlement before receiving compensation. This waived their right to take any further civil action.
This rule has since been lifted, as it re-traumatised victims to go through the Melbourne Response.
Child sexual abuse investigators, Broken Rites Australia, described the Towards Healing Program as "a business strategy designed to protect the church's assets and its corporate image".
The program was designed to protect the church from the legal liability of compensating some victims. The church wanted to avoid compensation altogether – however, sometimes, the church would offer a discounted settlement if the victim agreed not to pursue litigation to the full amount he or she was entitled to.
Despite wide criticism, Pell flaunted the "success" of the programs in the media and painted himself as the picture of a modern saint. He said he was doing a "public service" with the Melbourne Response and Towards Healing Program – a statement considered to be self-serving and unempathetic to the plight of child sexual abuse survivors.
He was patting himself on the back for broken and ineffective programs that damaged victims further.
Pell climbs the ranks and joins the Pope at the Vatican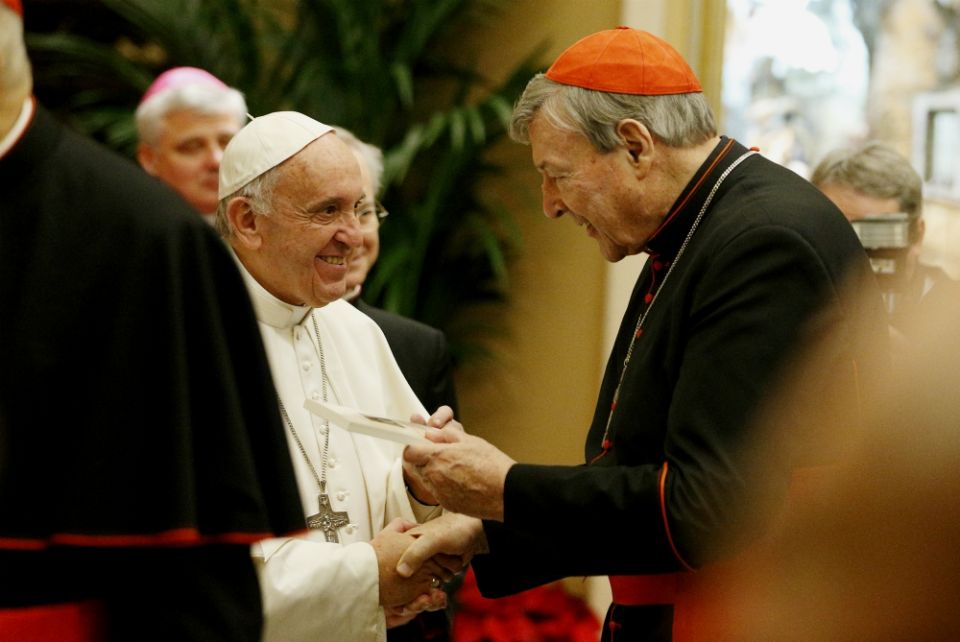 Image: National Catholic Reporter
Pell must have been doing something right with the Melbourne Response and the Towards Healing Program.
In 2001, he was appointed Archbishop of Sydney and elevated to the Sacred College of Cardinals by Pope John Paul II.
In 2013, he was appointed to the Council of Cardinals on Organisational and Economic Problems of the Holy See.
The success just kept rolling in for Pell. Soon, he was flown to Rome to serve Pope Francis.
He and a group of eight other cardinals advised the government of the church. The same year, Pell was elected Prefect for the Secretariat of the Economy.
Before leaving for Rome, Pell said:
"I apologise once again to the victims and their families for the terrible suffering that has been brought to bear by these crimes."
He also said he "looked forward" to the Royal Commission's findings around institutional abuse in Australia and patted himself on the back.
Meanwhile, "Operation Tethering" was unfolding with the Victorian Police.
"Operation Tethering" and the investigation into child abuse allegations involving Pell
As Pell was climbing the ranks in the Catholic Church, the Victorian Police were investigating historical child sexual abuse allegations against Pell.
In 2001, a Victorian man named Damian Dignan claimed Pell abused him at a youth camp when he was 12 years old.
While Pell was exonerated, the Victorian Police weren't going to drop the case. Operation Tethering investigated between five and 10 cases between 1978 and 2001 when Pell served in Ballarat and when he served as the Archbishop of Melbourne.
Pell denied the rumours of a police investigation – but his luck had to run out sometime.
In March 2014, Pell was called back to Australia to give evidence at the Royal Commission.
He was questioned about John Ellis – a former altar boy who was sexually abused by a parish priest named Father Aidan Duggan. Ellis sought compensation from the Catholic Church, but he was offered a small settlement through the Towards Healing Program.
In August, Pell submitted evidence on the effectiveness (or lack-there-of) of the Melbourne Response and Towards Healing program via video link. He was still at the Vatican – he did not return to Australia for the Royal Commission. He claimed he had heart problems and could not fly.
In 2016, he faced the Commissioners again regarding the Catholic Church's handling of child abuse allegations in the Ballarat Diocese and Melbourne Archdiocese. Since Pell refused to fly, many victims travelled to Rome to submit evidence.
At the same time, Operating Tethering was closing in on Pell.
Chief Commissioner of Victoria Police, Graham Ashton, confirmed Operation Tethering was investigating George Pell. Three Victorian police officers flew to Rome to interview Pell about the allegations. The interviews gave the Victorian Police enough information for them to take the next step.
George Pell charged with child sexual abuse
Image: the Canberra Times
In June 2018, the Victorian Police charged Pell with child sexual abuse of several victims.
"I'm looking forward, finally, to having my day in court," Pell said.
While it was not required, Pell appeared at the Melbourne Magistrates' Court for a filing hearing and entered a plea of not guilty. He wanted to be a martyr in the public eye – and he knew how to use the media to his advantage.
It was around this time Damian Dignan passed away.
The Victorian Magistrate said Damian's death would affect the structure of Pell's case. Damian's death meant there was one less witness to testify against Pell. Pell's lawyers then requested the medical histories of the other accusers. Naturally, they were denied.
In March 2018, 50 witnesses testified against Pell in court. Most of them were former choirboys and Pell's lawyer cross-examined all but five witnesses.
Afterwards, Pell was committed to stand trial. Magistrate Belinda Wallington decided there was enough evidence for the case to proceed on about half of the charges.
In December, Pell was convicted of five counts of child sexual abuse against two underage boys. The allegations involved indecent exposure, fondling, masturbation, and oral rape. He was given a unanimous guilty verdict by the jury.
Pell was allowed out on bail, but this was revoked in January 2019. His lawyers had filed an appeal which was to be televised for all of Australia to see.
In March 2019, Chief Judge Peter Kidd sentenced Pell to serve six years in jail with a non-parole period of three years and eight months. He was also registered as a sex offender.
In August 2019, the Court of Appeal of the Supreme Court of Victoria issued its ruling, which upheld the conviction. His appeal failed – and he was sent back to Melbourne Assessment Prison.
It seemed like George Pell had gotten what he deserved. There had been whispers and rumours of child abuse for years. Finally, it seemed like Pell was going to be punished for his heinous crimes.
But in September 2019, one month after his failed appeal, Pell was granted one final chance in the High Court of Australia.
George Pell's appeal verdict: Conviction overturned by the High Court of Australia
In April 2020, seven judges voted unanimously in Pell's favour. They determined there was reasonable doubt the abuse did not occur, and the jury did not properly examine all evidence relating to the case.
Chrissie Foster, an abuse victims' advocate, said the High Court's decision was "disappointing", to say the least.
"Victims of abuse will feel the same. They'll feel very disappointed that this permission has been granted and that it's going to continue. That's the way it often goes in these cases. It's just so hard to hold onto a conviction and make it stick," Chrissie said.
The father of one of Pell's alleged victims, who died from a fatal heroin overdose, has said he's "gutted" Pell was given another chance.
"I will always miss the innocent little choirboy that was my son, such a tragic waste of a beautiful boy whose life became a nightmare for himself and those around him. As a Catholic, I felt betrayed by the church, but as a parent, I felt like a failure," the father said.
Cardinal George Pell returned to Rome in October 2020
Image: news.com.au
Pell returned to Rome in October 2020, despite COVID-19 travel restrictions. He was given an exemption because he had "special Vatican business" to attend to. This enraged thousands of Australians and travellers who had been separated from their families during the pandemic.
Pell was assisting Pope Francis as financial scandals continue to unfold in the Vatican.
Cardinal George Pell died in Rome in January 2023
On January 10th 2023, Cardinal George Pell died at Salvator Mundi International Hospital in Rome, Italy. He passed at the age of 81 from complications following hip replacement surgery.
Prime Minister Anthony Albanese said the Department of Foreign Affairs and Trade would ensure Pell was brought back to Australia, where a service would be held at St Mary's Cathedral in Sydney, following a similar ceremony at the Vatican.
Image: ABC