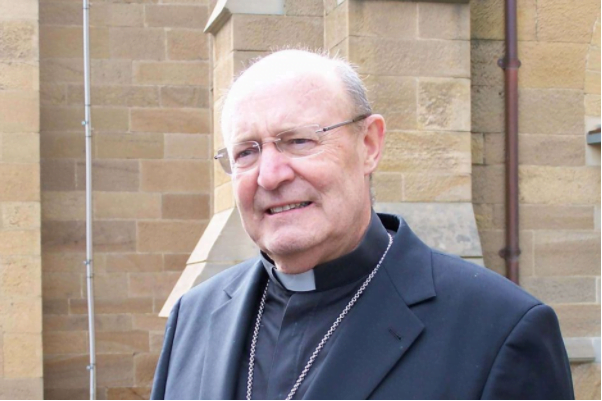 Image source: ABC
There's one universal, inarguable truth of sexual abuse…
Victims are never to blame.
Child sexual abuse is abhorrent.
The trauma and ongoing suffering endured by some of the most vulnerable people in our community is unimaginable.
There's no excuse for anyone with knowledge of this abuse to enable these crimes to continue.
The Royal Commission has uncovered stories of many influential leaders within Australian religious organisations who are aware of child sexual abuse crimes – but unfathomably, these supposed leaders choose not to report the atrocities (in fact, in many cases these men actively seek to protect rapists and abusers).
These individuals are paedophile enablers.
Archbishop of Hobart, Julian Porteous, is one of these individuals.
Julian's recent public comments show he is prepared to discount the humanity of victims of child sexual abuse to protect the image of his church.
Julian Porteous was ordained a priest for the Catholic Archdiocese of Sydney in 1974.
He then served as an Assistant Priest in the parishes of Kingsgrove, Manly, The Entrance, Woy Woy and Monavale.
In 2003, Pope John Paul II named Porteous the Auxiliary Bishop of Sydney. He was ordained by accused child sexual abuser, Cardinal George Pell, at St Mary's Cathedral.
It wasn't until 2013 that Porteous became the Archbishop of Hobart.
In his long spanning service to the Catholic Church, Porteous is well known for publicising his controversial views in the Australian media.
Porteous is known for his strong stance against marriage equality.
In 2015, he distributed 12,000 copies of his booklet "Don't Mess With Marriage" to families with children in Catholic Schools across Tasmania.
He was referred to the Australian Anti-Discrimination Commissioner but the complaints were later withdrawn.
Porteous has since used his infamous media presence to voice his unwavering support for Cardinal Pell who is facing several child sex abuse charges.
Porteous claims he is shocked Victorian Police have laid charges against Pell (in the face of Victorian police securing enough evidence to give their brief to the office of public prosecutions, which prosecutes the most serious crimes in the state).
"I think it's terrible these claims have been made against him," Porteous told the Mercury.
"I don't believe they've got any substance to them."
Counter to what Porteous contends, Victorian police have been investigating a series of serious sexual abuse allegations over the course of several years, with reports from over 50 witnesses have been assembled to give evidence before the court.
Before Victorian police charged Pell, The Royal Commission has heard evidence from multiple victims including David Ridsdale, who was brutally abused by his uncle, Gerald Ridsdale, as a child.
Ridsdale claims Cardinal Pell tried to bribe him to remain silent about the abuse.
Cardinal Pell has said claims like Ridsdales' are "outrageous" and plans to continue fighting against the allegations despite the fact that the prosecution has an optimistically "voluminous" collection of evidence.
By supporting Pell in the media, Porteous is attempting to discredit the horrible experiences of victims and enable the unforgivable behaviour of monsters.
Porteous is flagrantly disregarding the suffering of these victims.
Men who protect paedophiles deserve to be brought to justice.
If you have been abused by a member of the clergy or an institution, now is the time to share your story and join the brave victims who have spoken out during The Royal Commission.
We can help you in your fight for justice. Please fill in a claimant information form to take the first step in your journey today.