Kelso Lawyers understand that revisiting past memories can be a distressing experience and we go to great lengths to ensure that our process is as supportive as possible for survivors.
Once Kelso Lawyers have accepted your case, a time will be arranged for you to have a personal phone conversation with our founder and principal, Peter Kelso. Many people approach our firm because of Peter's own history of abuse, and he likes to speak personally with each and every survivor that we represent. Many survivors find these chats with Peter both cathartic and inspirational.
The foundation of a successful client-lawyer relationship is to be clear about expectations. For this reason, we send all of our new clients a letter detailing what you can expect of us and what we see as a respectful relationship.
We ask all of our clients to read and sign this letter. At this time, we will also send you our Conditional Costs Agreement. We ask that our clients be respectful of our staff at all times. While we understand that this process can at times be frustrating and distressing, please remember that we are always in your corner.
If you are at any time finding the process particularly distressing, it is important that your first point of contact is with your counsellor or doctor. While we can try to comfort and reassure you, we are not qualified mental health workers.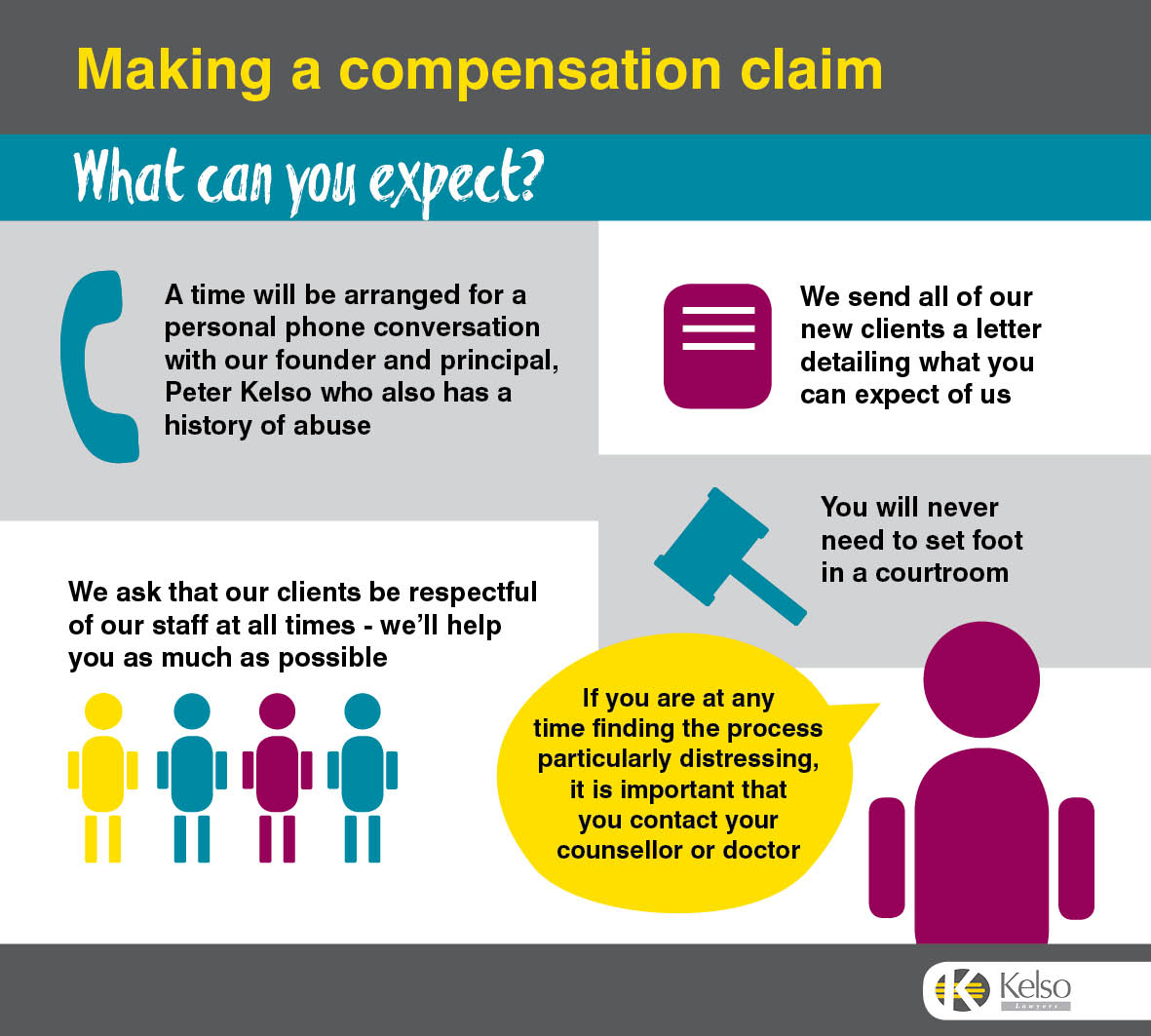 Will I have to go to court?
No. There are two pathways to seek compensation: through the court system (also called 'litigation'), and through a process called 'alternative dispute resolution' or ADR.
Giving evidence in court can be a stressful experience for anyone, but even more so for survivors of child abuse. Having your claim questioned and disputed over an extended period can re-traumatise victims and be counterproductive.
Cases pursued through the court system may take many years to be finalised, and survivors will have little involvement in the process and any outcomes. It is also unlikely that an apology will be able to be negotiated in a litigated claim.
If you feel like it's too much and you have fallen through the cracks, like nobody cares or believes you, please don't give up. Peter Kelso and his team do care about you.
Read about the breakthroughs some of our clients have achieved with our help.