Church & clergy child abuse compensation lawyers
Australia's dark history of clergy and institutional abuse of children finally came to light after decades of denial and disbelief, the voices of child abuse survivors were heard.
In 2009, hundreds of survivors gathered in Canberra to hear the Prime Minister apologise to the 500,000 "Forgotten Australians" who experienced neglect and abuse in orphanages and institutions between 1930 and 1970.
"We support child sexual abuse victims in telling their stories to the Royal Commission, lifting the silence on these horrific crimes. Our team of specialist lawyers also work with clients to achieve the best possible compensation payments and meaningful apologies."
In 2012, a Royal Commission was established to investigate how institutions like churches, governments, schools and sporting groups have responded to complaints of child sexual abuse.
Survivors of child abuse used to be ashamed of their history and haunted by their abusers. They now had the chance to tell of how their lives were devastated by what happened to them as children.
Compensation and Redress
Compensation is very important. It can help restore you to a position in life which you might have occupied if not for the abuse that you suffered as a child.
Compensation and an apology can help you get your breakthrough. The fair recognition of your trauma can help you begin to feel free from the controlling thoughts that have plagued you and held you back.
The Royal Commission did not award compensation to victims, however it recommended the establishment of a Redress Scheme – the Redress Scheme was launched in July 2018. It will last for 10 years.
Civil Claims
Compensation for abuse survivors can also be awarded through a process called 'a civil claim'. In light of the damning evidence presented at the Royal Commission, institutions are now more willing to negotiate just compensation payments. They are also more likely to apologise to survivors of abuse.
There has never been a better time to seek civil compensation for child sexual abuse. Civil payments are more generous than payments made by the Redress Scheme. It's a far better option in most cases.
"Thanks to the professionals at Kelso Lawyers my life has changed completely for the better. They fought for my right to be compensated for my terrible childhood abuse at the hands of the Catholic Church." Margaret Heathwood
Peter Kelso takes a special interest in survivors of clerical and institutional abuse. Peter grew up in institutional care and has experienced abuse first hand. Read Peter's story. Now a lawyer, Peter has represented survivors of abuse for 30 years and has recovered tens of millions of dollars in compensation for them.
Please complete our claimant information form urgently if you think you may be entitled to child abuse compensation.
Our costs agreement for clergy and institutional abuse clients
Excessive legal costs and drawn-out legal processes can be a barrier to some abuse survivors seeking compensation. Clients with smaller or complex cases can also find it difficult to find a legal firm willing to take on their case.
We never want to see a matter where one of our clients receives less money than we do.
It is important to us that all clients – no matter how large or small their case – have equal access to our experience and expertise. For this reason, Kelso Lawyers have developed a costs agreement specifically for these clients. It is a no-win-no-fee style agreement that means that if we are unsuccessful, clients do not pay our costs.
Our sliding-scale 'fixed-fee' approach to fees is unique. It means that clients who receive large awards pay larger costs; while clients with small awards pay smaller costs. We never want to see a matter where one of our clients receives less money than we do.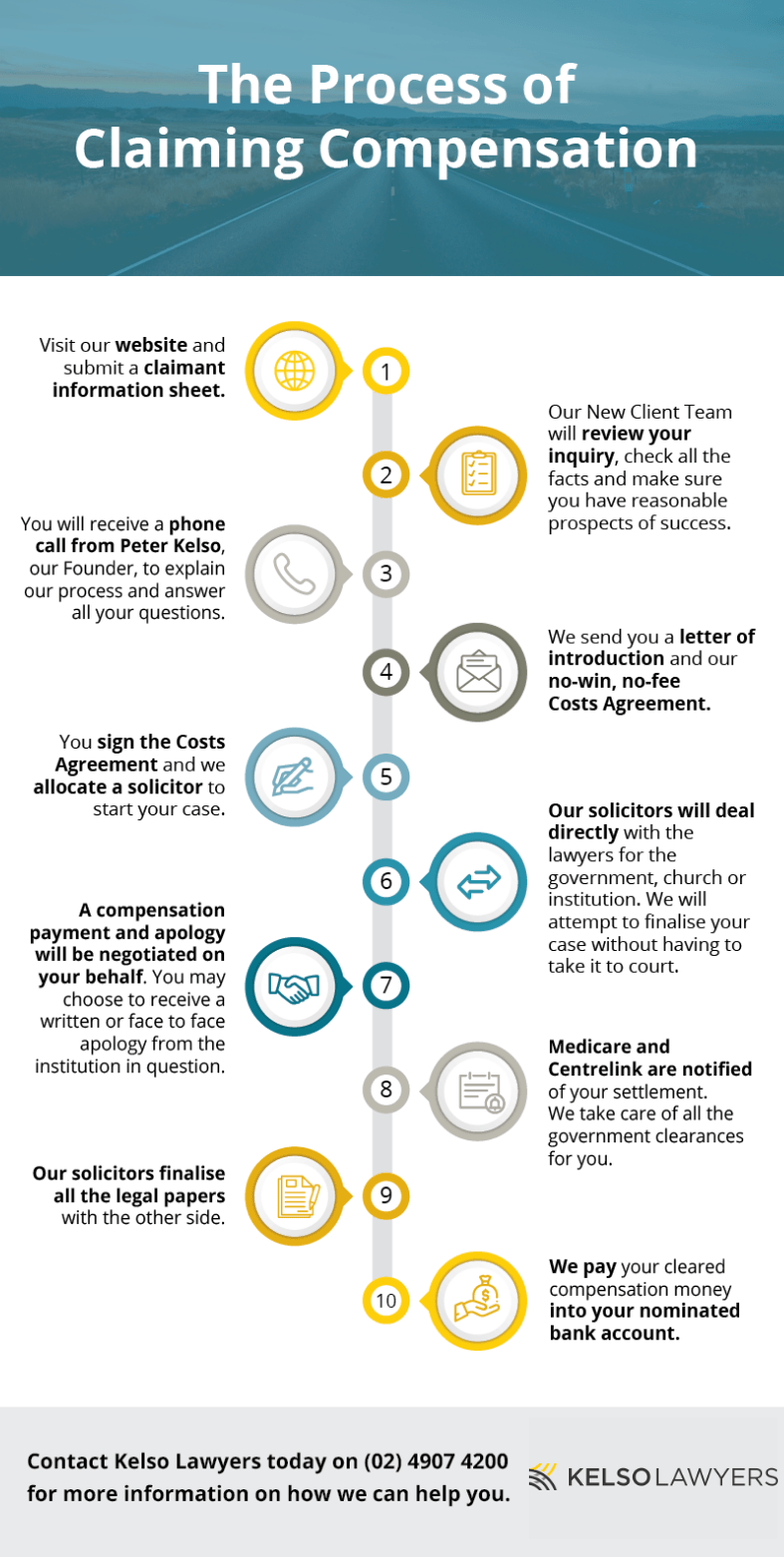 FAQS on the Royal Commission
State and Federal governments can instigate various types of inquiries. A Royal Commission has the most far reaching powers to investigate, gather evidence and question witnesses. It is commissioned in the name of the Queen by the Governor General of Australia.A Royal Commission is bound to investigate issues set out in its 'Terms of Reference'. These are the matters which the Crown wants investigated. At times you may find yourself wondering why the Royal Commission is not investigating a particular area of child abuse, such as family violence or physical abuse. This is because these issues are not included in this Commission's Terms of Reference.
It is also important to understand that a Royal Commission is not a court. Although it looks a lot like a court, and hearings are usually held in a courtroom with judges, lawyers and barristers, a Royal Commission's sole function is to investigate, collect information and provide recommendations to governments and institutions.
Royal Commission hearings are much more flexible than courts. They are not bound by rules of evidence. Witnesses can be directly questioned by Commissioners and procedures can be relaxed to accommodate the needs of survivors. However, it is also important to realise that the Royal Commission will not usually comment on whether an allegation is true or false, or if someone is guilty or innocent. That is a function for the courts. In saying that, it is not uncommon for the Royal Commission to pass evidence on to police in order to assist a criminal investigation.
When did the Royal Commission Into Institutional Abuse commence and how long will it go for?
Former Prime Minister, the Hon. Julia Gillard and former Attorney General, the Hon Nicola Roxon MP announced the Royal Commission in November 2012. The Terms of Reference were established and six Commissioners were appointed in January 2013. The first public hearing commenced in September 2013.
The Royal Commission was initially funded to run until the end of 2015, but requested a two-year extension, which was granted by the Federal Government. The Commission's final report was handed down on 15 December 2017.
Will there be compensation for victims?
In 2015, the Royal Commission recommended that the Federal Government establish a national redress scheme to provide the survivors of institutional child sex abuse with equitable access to compensation.
The scheme – which is expected to cost more than $4 billion — would be funded by the institutions in which abuse has taken place. The Commission has recommended that the redress scheme be in place no later than July 2017. The redress scheme is yet to be launched officially.
In the meantime, child sex abuse survivors are able to pursue compensation claims through a civil litigation process. This is separate to the Royal Commission proceedings.
How can I hear about what the Royal Commission Into Institutional Abuse is doing?
Kelso Lawyers have a strong history of assisting victims of crime, going back as far as 1988. We are committed to providing regular and accurate updates about the Royal Commission, both on this website and on our dedicated Facebook page.
What's the process of claiming compensation?
There are ten steps to claiming compensation:
1. Complete a Claimant Information Form or phone Kelso Lawyers.
2. Claim assessed for eligibility for compensation.
3. Have a personal conversation with founder and principal, Peter Kelso.
4. Receive a letter of introduction and our Conditional Costs Agreement. These documents need to be signed and returned before we commence proceedings.
5. Ensure that you have a professional and personal support network in place.
6. Case assigned to one of Kelso Lawyers' experienced solicitors to prepare the case.
7. Make a statement.
8. Attend mediation where compensation payment will be determined and a verbal and written apology made.
9. Notify relevant Government agencies of impending compensation payment.
10. Receive compensation and an apology.
Yes you can sue the individuals if they have abused you. However, we recommend attempting to achieve compensation through the relevant government bodies. Since the landmark Armes v Nottinghamshire County Council case ruling, the British legal system has opened a window of opportunity for victims of abuse to pursue the local government for compensation in abuse cases.
How long will a compensation claim take?
Every case is different depending on the claim – however most compensation claims are finalised in around 12 months.
Will I have to face my perpetrator?
No, you won't have to face your perpetrator. You will meet with senior representatives of the church, institution, government department, but you will not have to face your abuser.
Who can I talk to if I need help?
The team here at Kelso Lawyers aren't certified medical professionals, however we have an extensive list of support services we recommend for victims of abuse. Please refer to the page for the specific support group you require.
Want to apply for compensation?
Fill out the form. It takes about 5-10 minutes. Then you'll never have to do it again.
Start Now
help
Related Pages