In the 1960s and 70s, Salvation Army Captain John Dalziel McIver allegedly terrorised young boys in his charge at Salvation Army Boys Homes in Sydney and Brisbane. 
The boys at these Homes were unwanted and abandoned, with no family to look out for them. The Homes were supposedly a safe haven for these lost young souls, but the reality of their experience was far more brutal. 
Far from being punished for his alleged crimes, McIver would go on to be promoted in 1980 and wouldn't face any consequences for nearly forty years.
McIver's career thrived throughout his alleged reign of terror on innocent boys 
John McIver worked at Bexley Boys Home in south Sydney from 1968 until 1976. 
He was made manager at the Alkira Salvation Army Home For Boys in Indooroopilly, Brisbane, in 1974, where he remained until 1976. 
In 1980, McIver was promoted to Major by The Salvation Army. He retired in 2004 and remained a member of The Salvation Army. 
His successful career is all in spite of the complaints made by young boys, claiming McIver had terrorised, beaten and sexually abused them in Sydney.
McIver allegedly handed out brutal punishment for minor misdemeanours
The Royal Commission heard about McIver's "brutal" behaviour from brave victims who came forward to give evidence against The Salvation Army and its treatment of children in its care.
McIver was known among the Boys Home residents at Bexley and Alkira for his "kidney punch", a savage physical punishment McIver allegedly doled out for any behaviour he deemed as inappropriate.
McIver was also accused of sexually assaulting a resident of the Bexley Boys Home and silencing the boy by telling him he would "beat the life" out of him if he told anyone.
The survivor who made the allegation, known only as GA, was paid $40,000 by The Salvation Army as compensation.
While working at Alkira in Indooroopilly, it is alleged McIver burnt a boy's leg with a cigarette. On another occasion, it is alleged he used a strap to whip a young boy's genitals. 
He has also been accused of lashing boys' naked bodies with a cane or belt after forcing them to take off their trousers and bend over. 
McIver was also known to orally and anally rape boys as they slept in the dormitories at night. 
Even one of the above pieces of evidence levelled at McIver should have been enough to strip him of his position in the Salvation Army and prosecute him in the courts. But any complaints at the time fell on deaf ears and McIver continued unimpeded in his alleged abuse of young boys for over ten more years. 
McIver allegedly refused hospital treatment to the child he injured, whistleblower sacked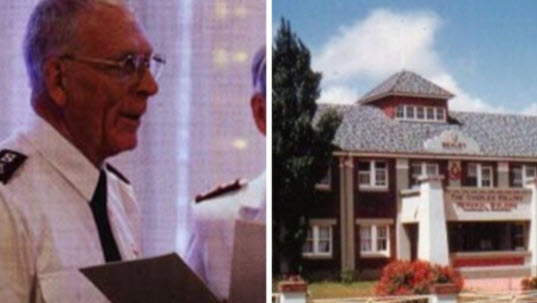 Source: Daily Telegraph
The Commission heard that in 1975, when he was manager of Alkira, McIver ferociously whipped a 12-year-old boy with a strap. During the beating, the boy allegedly reached his hand back and McIver broke a cufflink. 
The whistleblower, a retired Salvation Army Major and former Alkira house parent named Clifford Randall, recalled what happened next: 
"He went ballistic, McIver grabbed the boy and threw him up against the wall, bruising his face and dislocating his shoulder," Randall said on Monday.

"I lost it and threw him [Mr McIver] into his chair."
Randall and another staff member attempted to take the child to the hospital for treatment. McIver allegedly refused to let them use the car and instead forced the boy's arm back into its socket himself. 
Randall reported the incident to the Queensland Department of Children's Services. In response, McIver gave Randall and his wife, who was also working as a house parent, 48 hours notice to leave Alkira. 
McIver's crimes were known to authorities as early as 1975 
Clifford Randall worked as a house parent underneath McIver at Alkira. The former Salvation Army Major complained about McIver to Brigadier Reddy, the Salvation Army's then-social secretary, after only being at the Indooroopilly home for a short while.
According to Randall, he was advised every time he complained to the Brigadier that all complaints must be made to his manager, even though Randall's complaints were about the manager, McIver.
Randall was told that the punishments McIver inflicted on the boys in his care did not go beyond what the state approved.
In 1975, Randall contacted the Queensland Department of Children's Services regarding McIver dislocating a child's shoulder during a beating.
In November 1975, the Director of the Queensland Department of Children's Services contacted The Salvation Army regarding McIver, writing:
"Some discussion with Captain McIver who is not at all easy to deal with and who questions the knowledge basis of the Child Care Officers when it comes to dealing with the sort of boy who he has in his Home. Captain McIver's approach to young people is one of the reasons why this Department has been reluctant to place boys at 'Alkira'".
The following year in 1976, McIver left his post at Alkira. Far from condemning his behaviour or dismissing him from the institution, four years later in 1980, The Salvation Army gave McIver a promotion, giving him the prestigious rank of Major.
The Salvation Army didn't inform McIver of the allegations against him until 2013 and he was finally dismissed from the Salvos in 2014, nearly three decades after accusations were first made against him.
McIver wriggles out of prison after serving less than six months
In September 2019, McIver was found guilty of two counts of buggery and two counts of indecent assault. Three months later, he was sentenced to an aggregate prison term of nine years and six months with a five-year, eight-month and 28 days non-parole period.
In April 2020, McIver was granted bail to house arrest at his Richmond home pending an appeal of both his conviction and sentence. He claimed he is innocent of all charges.
In 2021, to the victims' understandable fury, McIver was acquitted of the latest raft of child sex abuse charges. Judge James Bennett found McIver not guilty of two counts of buggery and three counts of indecent assault from when he was at Bexley Boys' Home.
The District Court said there was no written record of the reason why McIver was acquitted. Leonie Sheedy, CEO of the Care Leavers Australasia Network, said the men who gave evidence against McIver were devastated.
"They can't even find out why. How can we trust the NSW justice system?" Ms Sheedy said.

"I got a call from one of them on Wednesday and he said to me 'do I have to go to Bunnings to get a rope?'"
The District Court said a transcript of the judge's ruling had been ordered and would be published online but it "can take between 4 – 10 weeks".
Feature Image: Daily Telegraph