If you've been a victim of clergy or institutional child abuse and are interested in seeking compensation, the costs and time frame involved with making the claim will be factors you've likely considered. We've outlined what you can expect to reassure you that these factors shouldn't be of concern.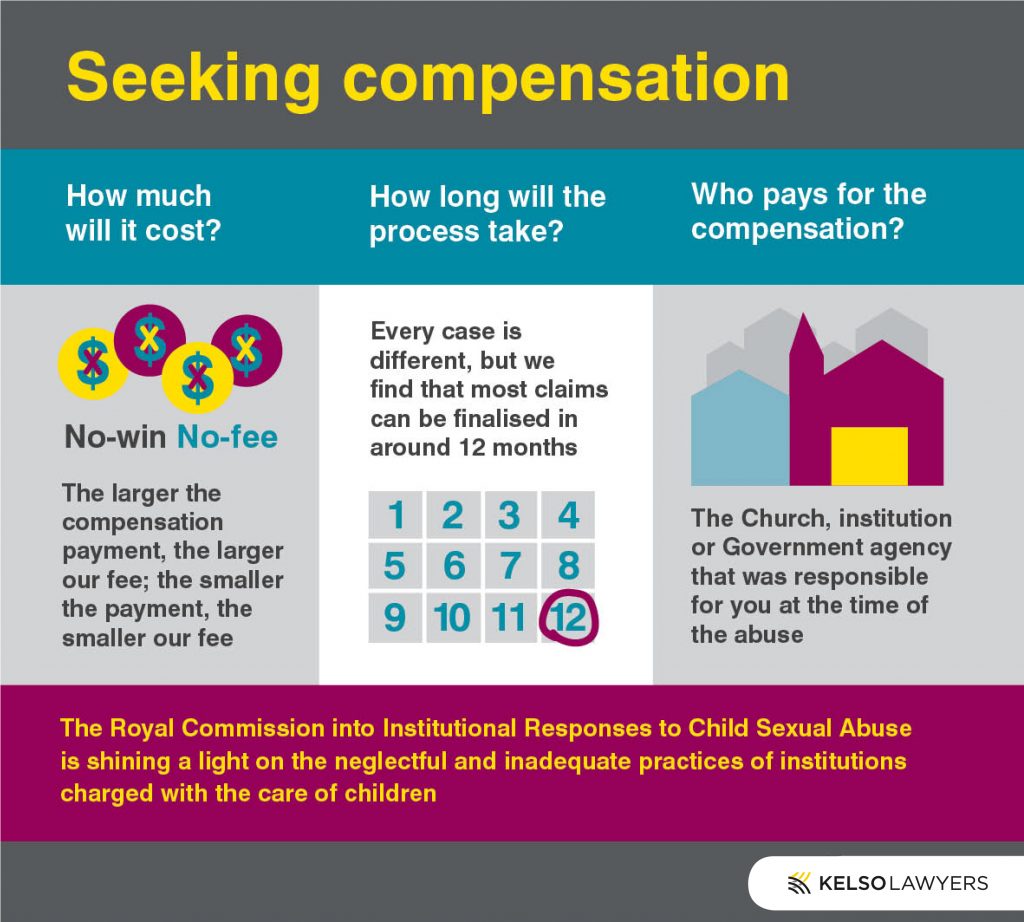 How much will it cost to make a compensation claim?
Like most legal firms working in the area of compensation, we operate on a 'no-win, no-fee' basis. We classify a 'win' as an offer of compensation of $10,000 or more.
But this is where the similarity ends. You may have heard of cases where a victim is awarded compensation only to find most of the payment has been swallowed up by legal fees. Our Conditional Costs Agreement ensures that we will never make more from your compensation than you do, and most clients will keep around 80% of their award.
We have specifically developed our costs agreement for historical child abuse cases, in recognition of the fact that some cases are more complex than others and will take more of our time to resolve.
Our costs agreement takes an outcome-based approach. The larger the compensation payment, the larger our fee; and the smaller the payment, the smaller our fee.
It's simple and, most importantly, it's fair to our clients.
How long will the compensation claim process take?
Every case is different, but we find that most compensation claims can be finalised in around 12 months. We ask our clients to be patient during this period, because at times it can seem like time is at a standstill.
However, you can be assured that we are working tirelessly in the background to build the best possible case for compensation.
We will be in touch with you as your case progresses, but if you ever feel the need to talk to us, we are only a phone call away.
Will I have to pay back Government benefits?
Many survivors are anxious about the impact that a compensation payment may have on their regular Government benefits. But there is nothing to worry about – in the vast majority of cases, the impact is minimal.
However, it is important to notify both Centrelink and Medicare before receiving a compensation payment. We do this for you.
For Centrelink payments – including the aged pension, disability pension, carer's pension, unemployment benefits, and many others – it is extremely unlikely that receiving compensation for historical child abuse will affect your benefits.
As the abuse happened many years – often decades ago, any period for which your payments would be suspended (called the 'preclusion period') would have already been served. Put simply, for most cases, your Centrelink benefits will just continue as usual.
The exceptions are if your compensation payment is unusually large (in the millions), or if you are in debt to Centrelink. Clients who have a debt to Centrelink as a result of a loan, overpayments or fraud, may have this money deducted from their compensation. The good news is that this will completely clear the debt and your benefit payments will return to their full amount.
Medicare payments are slightly different and survivors receiving compensation may have to pay back some money. Again, this is nothing to be concerned about because this usually amounts to no more than a few hundred dollars. In the lead up to finalising the settlement, we will notify the Health Insurance Commission (the organisation that administers Medicare), and you will be sent a 'Notice of Past Benefits'.
This Notice will include every consultation for which Medicare benefits have been paid over many years. It's very important that you tick ONLY medical services that are related to the abuse, as Medicare will require the repayment of benefits for these services.
We recommend that you talk this through with us to be sure that you do not nominate more services than necessary. If you get it wrong, we can have it corrected with Medicare.
Who pays for the compensation?
The compensation payments are made by the Church, institution or Government agency that was responsible for you at the time of the abuse. The Royal Commission into Institutional Responses to Child Sexual Abuse is shining a light on the neglectful and inadequate practices of institutions charged with the care of children.
The revelations made in the Royal Commission have made many institutions more willing to negotiate fair compensation payments to abuse survivors than in past years.
Get in touch with our institutional & child sex abuse compensation lawyers today.