Let's be honest. We all know you can't change the past. But you can do something about improving your future. And a lump sum of compensation money, used wisely, can be life changing.
People out there will want to tell you that 'money isn't everything' or 'no amount of money will ever change what happened'.
I find the ones who are quick to hand out this type of advice are usually the churches, governments and insurance companies who are being forced to pay out the money, or people who are jealous when they hear you are going for compensation.
What is compensation?
Compensation is a sum of money the other side pays to you in an effort to restore your life to a place where it might have been if it were not for what happened to you when you were a child.
Don't be embarrassed about that. It is part of the healing process.
What are the benefits of compensation?
If you can string together a few positive things like making some good decisions, starting counselling, getting on the right medication, looking after your health and fitness, eating well and speaking some blessings over yourself, then life will start to look a whole lot better.
Some money at the right time will help ease the pressure on you. Nobody wants to live every day under negative pressure. I'd choose blessings over my life any day rather than curses.
How should you use your compensation money?
I often advise my clients about how to make the most of their compensation payments. Here are a few suggestions:
Buy a house or pay off your mortgage if you can.
Take a nice holiday that you haven't been able to afford. Go on an island cruise, fly to Hawaii, visit Europe or snorkel the Great Barrier Reef.
Buy a four wheel drive, hook up a caravan and go around Australia with your best friend. Take all the time you want.
Update your 15-year-old car.
Buy a new flat screen TV and update the stove and washer. Get an ice-making fridge.
Buy some decent furniture. Not the cheap stuff you bought when you first got married.
Get your teeth fixed and go out for a steak dinner.
Do something for your children.
Pre-pay your funeral so you won't have to worry about that anymore.
If you believe that you may be eligible for compensation, please complete our Claimant Information Sheet or call us to discuss your matter in confidence.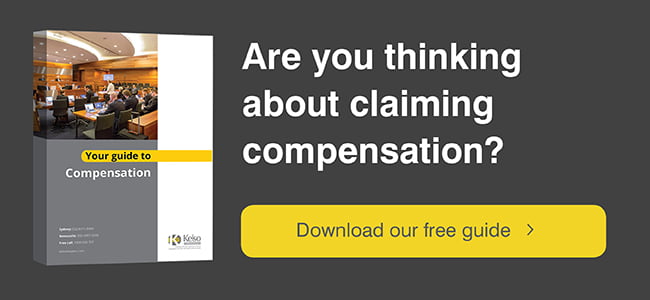 Image source: Pixabay