The classroom should be a place where children feel safe. There should be no barriers between them and their learning. 
Their teacher should be a beacon of knowledge, kindness and support. There should be an unbreakable feeling of trust between teachers and their students – no child should ever feel too scared to set foot on school grounds.
However, teachers have been known to overstep their boundaries and break that unbreakable trust. The truth of the matter is that sexual abuse is rife in Australian schools. In fact, according to a recent report from the Bureau of Crime Statistics and Research, an average of 551 sexual offences against children occur on school grounds every year.
In 2020, there were more than 100 sexual assaults on children in NSW schools.
Yes, school should be a place where children feel safe, but Catholic institutions like the Salesians of Don Bosco (otherwise known as the Salesian Order) have developed a reputation for their unsafe learning environments.
Multiple Salesian institutions in Australia have faced allegations and cases of child sexual abuse, including but not limited to:
Salesian College, Sunbury (also known as Rupertswood)

Salesian College, Brooklyn Park

Boystown, Engadine (now the Dunlea Centre)

St Joseph's College, Ferntree Gully
The Royal Commission revealed 114 people made a claim of child sexual abuse against the Salesians between 1950 and 2010. This makes up 21% of all claims related to religious institutions with priests and religious brothers. 
Salesian schools hired a slew of paedophile priests to teach their students, leading to hundreds of child abuse allegations. In this article, we explore each of the schools mentioned above. 
Salesian College, Sunbury (Rupertswood)
Image: Sydney Morning Herald
Rupertswood Mansion was home to the Salesian College in Sunbury. A beautiful countryside home, Rupertswood Mansion was built in 1874 and once hosted many distinguished guests including royalty. 
However, it became a house of horrors when the Salesians bought the building in 1927 and turned it into a school for boys.
Years of sexual abuse at the Salesian College in Sunbury has led to multiple paedophile teachers being imprisoned, while other priests at the college reached settlements with their victims. 
Just a few of the paedophile priests include: 
Michael Aulsebrook

: jailed for the sexual abuse of a 12-year-old student in 1983 and again in 2016 for sexual assault

Peter Paul van Ruth

: sentenced to 28 months jail in 2011 for indecently assaulting two 12-year-old boys

Frank Klep

: former principal of the college, convicted in 1994 of four charges of sexual assault relating to incidents during the 1970s

David Rapson

: former vice principal, found guilty of eight indecent assaults and five rapes committed against students between the mid-1970s and 1990, jailed for 12 years

Julian Benedict Fox

: former teacher and head of the Salesians in Australia, pleaded guilty to three counts of common assault related to beating three other boys with a pool cue.

Frank De Dood:

former teacher, sports coach and dormitory supervisor. He was jailed for three years in 2017 for abusing children he was either teaching or responsible for between 1978 and 1983.
The 2004 biography of the prominent Salesian priest, Father Chris Riley, stated that these men were "absolute maniacs" and their violent behaviour made Father Riley question his decision to become a priest. 
On one occasion, Father Riley witnessed the Salesian brothers mercilessly beat a group of boys with a stick. Father Riley stood up to the men and shouted "'you can't hit people, you're a Salesian – this isn't the Salesian way". 
However, the children weren't just subjected to beatings.
During the Royal Commission, former students told stories about the physical and sexual assault these men inflicted on a daily basis. One survivor recalled an evening where the boys were given drugged Milo in the school's infirmary and woke up to the sound of one of the other boys being assaulted.
Another told the commissioners he'd been given a glass of lemonade, only to wake up to a priest assaulting him, too.
Parents were reluctant to believe their children's claims of abuse. The prestigiousness of Rupertswood Mansion combined with the school's good reputation and the devout "Men of God" running the school made it hard for parents to believe abuse could be happening at the Salesian College.

Salesian College, Brooklyn Park 
Father David Rapson and Father Frank Klep also worked at the Salesian College in Brooklyn Park. However, the paedophiles weren't alone here. 
Other offenders haunting the halls of Salesian College in Brooklyn Park include:
Father Adrian Wenting:

held "counselling/discipline sessions" where he would place his hands on the boy's shoulders and press his penis against the boy's behind. He also strapped the boys and masturbated in their presence

Father Frank Drohan:

invited the boys to his private living quarters and showed them pictures of naked men, women, and couples having sex, then ask how they felt about the photos and if they were already having sex.
Father Patrick Laws also committed child sex offences between 1967 and 1968 while he was a senior staff member. One survivor (who remained nameless during the Royal Commission) said Father Laws targeted him because he was a boarder – one of the most vulnerable kinds of students at Brooklyn Park.
At the age of 12, he was physically and sexually abused by multiple members of staff including Father Laws.
In 2011, the Salesian Order accepted the survivor's story and offered him a small amount of compensation. He was encouraged to sign a settlement deed, meaning he forfeited his right to take further legal action against the Salesians. 
Later, he told the Royal Commission the Salesians' settlement process was designed to benefit themselves and not to repair his damaged life.
Another victim named Russell Clark was assaulted when he was 12-years-old and was called a "demon" by the offender. To cope with the trauma in adulthood, Russell turned to heroin and a life of crime.
Because he spent time in prison, Russell is not eligible for the National Redress Scheme.
"To exclude myself and others from redress because I took drugs and committed crimes to support a habit is just stupid," Russell said.

"I hurt myself, self destruct mode is what usually happens when a child is raped and tortured. Those ass-wipes who abused me got away with it and they were protected for crimes against humanity."
Boys Town, Engadine (now the Dunlea Centre) 
Boys Town in Engadine was a residential school set up to house "troubled" adolescent boys and occasionally their families.
Throughout the Royal Commission, it was found that various Salesian Fathers had been accused of and charged over offences related to child sexual abuse at Boystown in Engadine. One of the Salesian Fathers, Father Paul Raymond Evans, was found guilty of 18 offences and jailed in 2008 for the sexual abuse of seven boys during the 1970s and 1980s.
In 2018, one of the victims of Boys Town came forward and took legal action against the institution. Darcy Toner, now 86-years-old, was only nine years old when he was allegedly raped by one of the Salesian Brothers.
Darcy was left at Boys Town in 1942 when his father, a professional boxer, was unable to pursue his career and care for his son at the same time. He was seven years old at the time and said the physical and sexual abuse started almost instantly. 
One of the Salesian Fathers repeatedly sexually abused him and often locked him in a linen closet for days on end. On one occasion, he was left in the closet for 48 hours straight.
"Boys Town was pitiful. I was raped and it breaks me down when I think about how I was treated," Darcy told the Mercury.

"They told me if I spoke to anyone that would be the end of me. But now I will let people know what actually went on, the truth. They told me if I spoke to anyone it would be the end."

"I have a photographic memory, which has made the memories worse. I can't put it behind me."

"It is an evil betrayal of trust as well as an opportunistic way for these people to harm children who deserve nothing less than compassion and care."
The Salesian Father eventually moved away from Boys Town but Darcy was left with the scars of what happened to him there. Later in life, Darcy tried to commit suicide due to the emotional trauma of Boys Town.
St Joseph's College, Ferntree Gully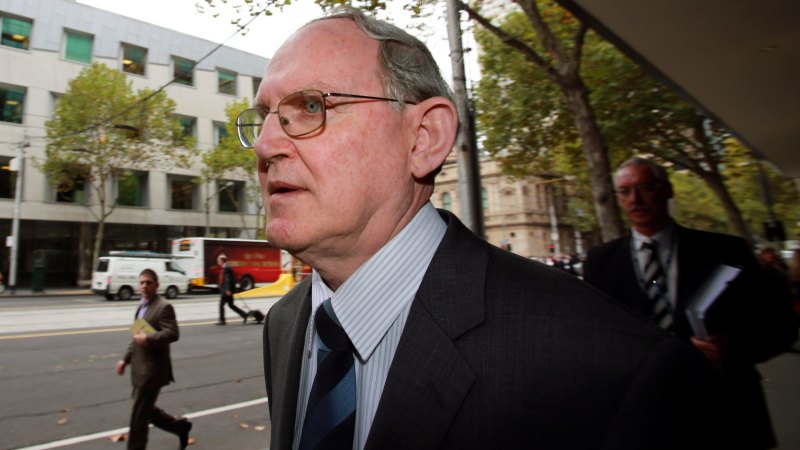 Image: the Age
Multiple repeat offenders within the Salesian Order worked at St Joseph's College in Ferntree Gully, including:

Father Patrick Laws:

also served at the Salesian College in Brooklyn Park. He was the headmaster and rector of St Joseph's College in Melbourne. The Salesians of Don Bosco have acknowledged that Father Laws abused several children.

Father Julian Benedict Fox: also served at the Salesian College in Sunbury. He was charged with 10 offences including buggery, indecent assault and common law assault for abusing students at Rupertswood Salesian College between 1976 and 1985.


Fox was known for his cruelty at every school he served. In 1984, Fox was the principal of St Joseph's College and he indecently assaulted a 14-year-old boy on two separate occasions. On one of those occasions, another priest was in the room, but nothing was done to stop the abuse.
The boy had been sent to Fox to be punished.
At the Rupertswood Salesian College where he was the prefect of studies, Fox allegedly slammed a pool cue into the back of a 14-year-old student's head and asked "is that hard enough?"
The student wasn't the only one to be beaten with a pool cue. It is alleged Fox beat three students the same way.
Fox briefly fled to Rome in 1999 when complaints about his misconduct started to arise. He worked at the Salesian Headquarters and spent more than a decade avoiding calls to return to Melbourne to face justice.
The Salesians quietly compensated one of the victims with $36,000 but six years later, the victim passed away. This ended a police inquiry that had been frustrated by Fox's refusal to return to Melbourne.
Despite claims Fox had been banned from working with children, he was caught giving children lectures overseas about social media. 
How the Salesian Order responded to the Royal Commission
After the Royal Commission ended in 2017, the Salesian Order took on the commissioner's recommendations and implemented a Child Safety Policy for Salesian schools. Their statement read: 
"The Salesians are committed to providing a child-safe and child-friendly environment, where children and young people are safe and feel safe and are able to actively participate in decisions that affect their lives."

"The Salesians have a zero-tolerance for child abuse and are committed to acting in children's best interests and keeping them safe from harm." 
The Salesian Province regards its child protection responsibilities with the utmost importance and as such, is committed to providing the necessary resources to ensure compliance with all relevant child protection laws and regulations and maintain a child safe culture."
The Salesians have also implemented a range of procedures and training for their staff members, including:
Procedures for responding to allegations of child abuse

Procedures for reporting allegations of child abuse or misconduct

Guidelines to respect confidentiality and record-keeping

Strategies for staff members, volunteers, parents and children to understand, identify, discuss and report child protection matters

Procedures for recruiting and screening council members, staff members and volunteers

Pastoral care strategies to empower children and keep them safe

A child protection training program for staff members and volunteers

A guide for steps to take after the disclosure of child abuse to protect, support and assist children

A system of continuous review and improvement.
While this is a positive step in the right direction for Salesian schools and institutions, the damage has already been done for countless former students and wards.
No child should ever feel unsafe in a school or government facility. Many of the victims were vulnerable children on their own in a foreign environment. They were not protected by loved ones or trusted adults.
They were left to fend for themselves, too afraid to speak out against their abusers.
At Kelso Lawyers, we support survivors of institutional abuse to speak their truth and achieve the justice they truly deserve. If you believe you were abused in a Salesian institution, we're here to help you achieve compensation and a formal apology from the Salesian Order.
Get the justice you deserve with Kelso Lawyers. We want to hear your story. Call (02) 4907 4200 or complete the online form before you accept payment from the National Redress Scheme. 
Feature Image: Pexels