Clairvaux Children's Home was established at Katoomba NSW by the Child Welfare Department in 1969. At the time, other state institutions like Mittagong, Brush Farm and Werrington Park were becoming overcrowded, so Clairvaux was opened to house another 24 wards of the state.
In the beginning, the Home provided accommodation for boys who were described as having intellectual disabilities. 
Clairvaux was closed in 1990, remembered only by the boys (now men) who lived there. In 2014, the grand old building was repurposed into the Clairvaux Community Centre and now serves as the operations centre for a wide range of community-based charities.
But what happened behind closed doors between 1969 and 1990 was disturbing, to say the least — but you won't hear about it in the news. The boys' complaints were brushed off by their houseparents and other members of staff on-site. 
As wards of the state, they had nowhere else to turn. They lived out of sight of the community. They didn't have a voice.
In this article, we share the story of one individual who suffered at the hands of a cleaner who worked at Clairvaux. Read on.
Active paedophiles roamed the grounds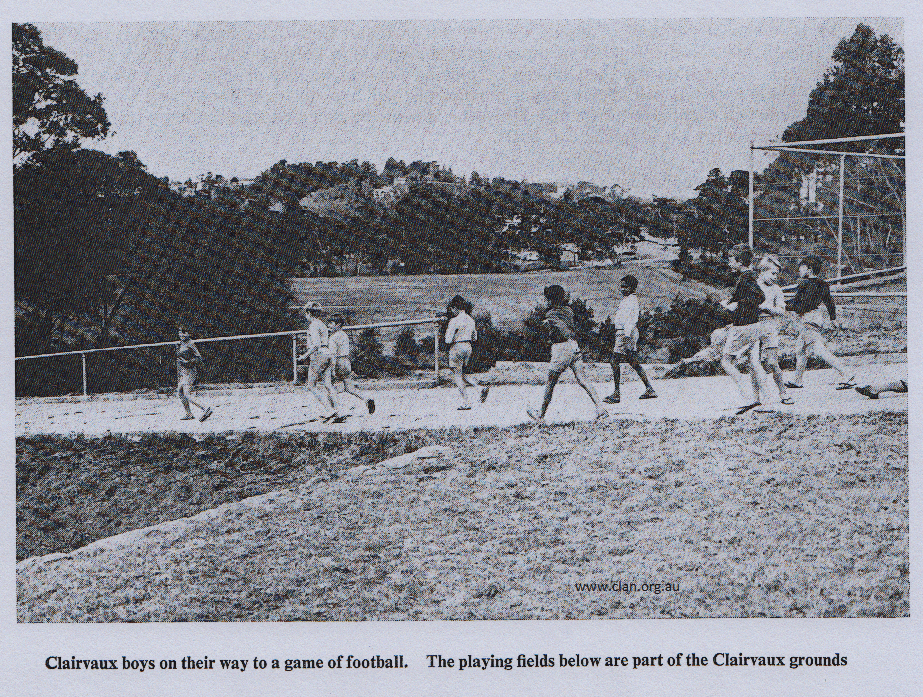 Image: Care Leavers Association
A former resident of Clairvaux (who remains unnamed for privacy) was only six-years-old when he arrived at Clairvaux as a state ward. For the next 10 years, he was sexually abused weekly by a cleaner named "Darryl" who the victim remembered had red hair — a recognisable, memorable feature. 
The victim was often sexually abused in Darryl's work shed, located near the Home's pool.
Darryl subjected the child to anal penetration every single time.
Believing that someone would help him or at least send Darryl away, the victim told his houseparents, Mr and Mrs Brady, about what was happening to him. Rather than reporting Darryl to the police, they ignored the complaints and the cleaner continued to work there… and continued to abuse the vulnerable child. 
The victim then tried to report the abuse to the woman who cooked in the kitchen. She at least sent the child to be checked over by the nurse but again, nothing was done to help him.
With nowhere left to turn, the victim ran away many times but was caught every time.
Eventually, the Department removed him from Clairvaux and sent him to Reiby Youth Justice Centre, followed by Mt Penang Training School. This was a common practice for boys who were considered "difficult to manage". 
Reiby and Mt Penang are known for their harsh discipline and rampant sexual abuse. For this particular victim, moving to Reiby and Mt Penang was not a "light at the end of the tunnel". Safety was not a luxury enjoyed by the boys who lived there.
If you were abused at Clairvaux, we want to hear your story
So little information is known about Clairvaux and the boys who lived there. Their stories have been lost in time — many are too scared to come forward and tell their stories. This is not uncommon; around 60% of survivors never disclose their experiences with abuse. Many are ashamed and fear they will not be believed. 
There are many grown men who still haven't spoken about their abuse by Darryl the red-haired cleaner, other on-site staff or by their own houseparents.
At Kelso Lawyers, we want to hear your story. Our specialist lawyers have helped hundreds of survivors achieve compensation across Australia. We will lend a sympathetic ear and most importantly, we will believe every word you say. 
From here, we will make the compensation application process as simple and stress-free as possible. It is our goal to ensure you achieve the best possible outcome and achieve your own personal breakthrough. 
Get the justice you deserve with Kelso Lawyers. We want to hear your story. Call (02) 4907 4200 or complete the online form before you accept payment from the National Redress Scheme. 
Image: Find & Connect