We need longer jail terms for paedophiles in NSW
How many times do we read about another convicted paedophile getting off lightly when he is sentenced?
Only recently a paedophile was given a measly 20-month sentence, after ten years of sexually abusing his stepdaughter.
Rarely do we hear a jail term which seems to fit the crime.
There was outrage over Archbishop Philip Wilson sentenced to home detention for one year for covering up for paedophile priests in the Catholic Church. The thought of the archbishop sitting in his comfortable house eating home-cooked meals prepared by his housekeeper and watching Netflix was humiliating to the victims.
It's just wrong. Something needed to be done.
The Royal Commission didn't take years of research and time to just sit there and act as a sad spotlight on Australia's horrific levels of child abuse committed by those in churches and institutions.
Our governments have finally started listening.
In New South Wales there will soon be major law changes to lock sex offenders away for longer.
The courts will also stop suppressing the names of sex offenders unless there are extreme circumstances. This means those who are charged by the police will have their names published in the news media and platforms such as Facebook, Instagram and Twitter. They won't be entitled to any privacy or privileges. Those days will be gone at long last.
This last reform was pioneered by radio personality Derryn Hinch (now Senator Hinch) who famously spent 50 days in jail for naming an accused paedophile in breach of a court order.
Attorney General Mark Speakman has initiated the reforms to comply with the recommendations of Justice Peter McClellan's Royal Commission.
These NSW laws will make the process of suing a church or institution much easier for the victims, with the burden of proof now laying with the institution in question.
If you are a victim of abuse and haven't yet considered suing for an apology and compensation payment, talk to our team today. We can help you with your case.
Our infograph below outlines the process of claiming compensation – if you have any questions please call our office on (02) 4907 4200.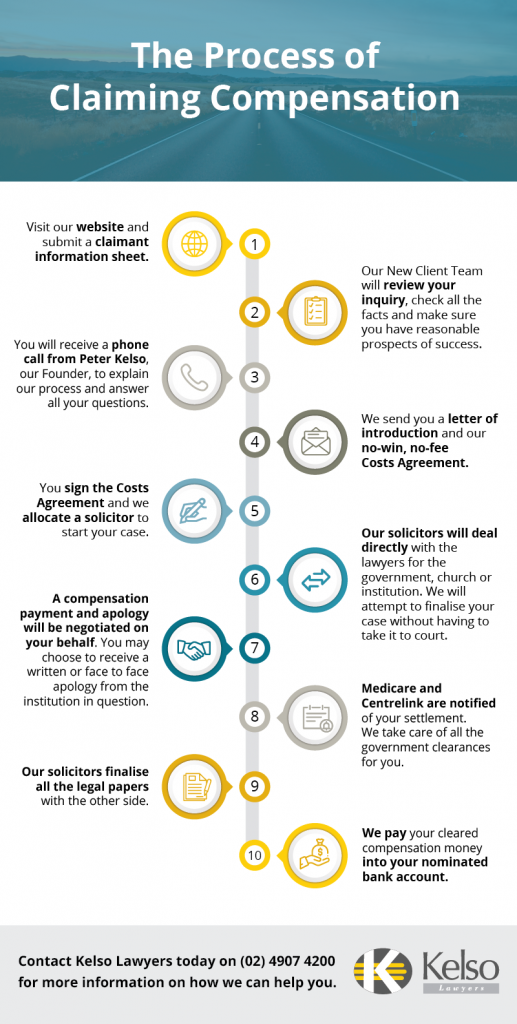 Image source: Pexels