The Holy Family Church in Doveton, Melbourne, has been described as a "hotbed of clerical depravity" and a "dumping ground" for problem priests. At least four paedophile priests who operated in the Archdiocese of Melbourne were sent to Doveton, one of Victoria's most disadvantaged communities. 
The Archdiocese hoped the problem would be resolved — out of sight, out of mind. 
The problem was not resolved.
In fact, it got much worse.
In this article, we delve deeper into the horrific, unfathomable crimes that occurred at the Holy Family Church and School in Doveton throughout the 1970s, 80s and 90s and encourage survivors of abuse to come forward and seek compensation. The team at Kelso Lawyers is here to help. 
Four despicable paedophile priests terrorised children and parishioners in Doveton
The Melbourne Archdiocese sent scores of paedophile offenders to Doveton but Fathers Peter Searson, Thomas O'Keeffe, Victor Rubeo and Wilfred "Billy" Baker have gone down in history as the worst of the worst. Below, we detail just a few of the crimes these men committed at the Holy Family Church in Doveton.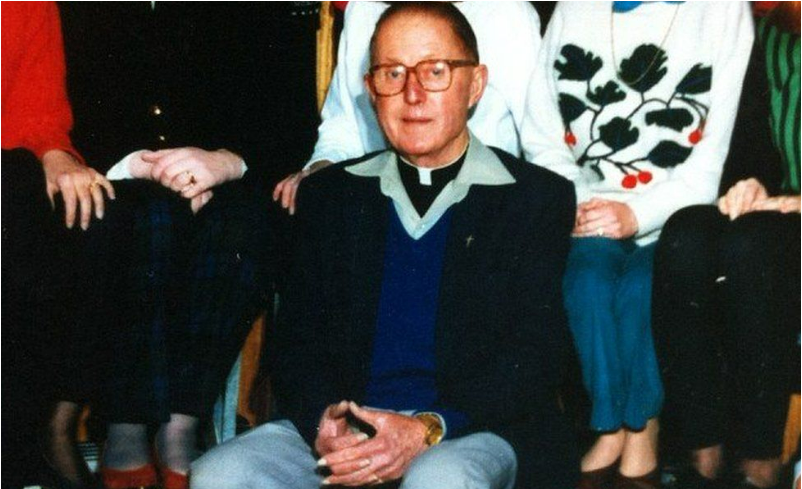 Image: BBC News
Father Peter Searson was one of the most disturbed paedophiles Australia has ever seen. He was a sadistic paedophile and psychopath who hated women and the entire Doveton community. 
Searson arrived at the Holy Family Primary School in 1984. He served at Doveton for 13 years, but letters from parishioners show that they wanted him gone within two years of his arrival — it's easy to see why. 
He had a terrible record with women and children before he was sent to Doveton. He received his first complaint in 1974 but was moved from parish to parish throughout the Melbourne Archdiocese, leaving a trail of destruction and misery behind him. 
Searson had long, yellow, manicured fingernails and carried a pistol that he often pointed at parishioners. He also tormented the children — he killed and tortured animals in front of them, showed them a dead body in a coffin, and would record the confessions of primary school children when they got "hot". 
He stole $40,000 in school funds, locked children out of the school, abused the canteen ladies and let his dog, Rex, defecate and urinate around the canteen. 
Of course, the abuse didn't end there. Searson made children touch his penis, cuddled and kissed them, made them kneel between his legs and loitered around the children's toilets. Letters from teachers, parents and nuns showed the children were scared of Searson — many teachers wouldn't let students visit Searson alone. 
Despite sending scores of letters to church authorities to have Searson removed, he remained at Doveton until 1997. He was finally removed after a 13-year reign of terror for physically abusing two boys — not for any child sexual abuse.
Searson died in 2009 before facing child sexual abuse charges. 
Father Thomas O'Keeffe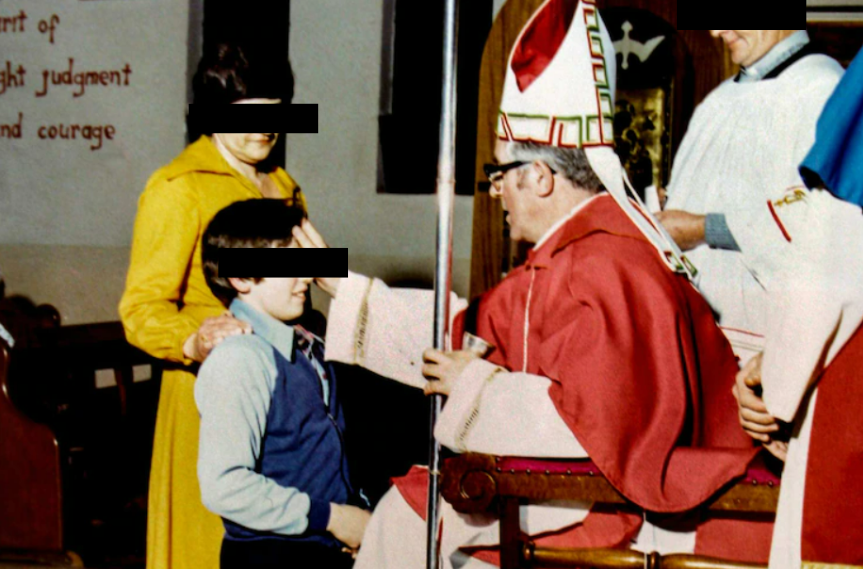 Image: ABC News
Father Thomas O'Keeffe committed most of his crimes at the Doveton parish in the early 1970s. He built a rapport with young boys who attended the Holy Family School — he ran cricket for them during recess, lunch and after Mass, and afterwards, they would all go back to the presbytery to have ice cream and soft drinks. 
He would also sometimes drive two or three boys down to the beach and afterwards, they would return to the presbytery for showers. O'Keeffe would make the boys strip off and shower together, and he would join them. He would rub soap on their bodies under the pretext of getting all the sand off. 
Once he had built a rapport, he would show the boys pornographic material and tell them dirty jokes. 
One of the boys was sodomised by O'Keeffe. Soon afterwards, the boy became "difficult" and his parents couldn't figure out what was bothering him. In 2003 (at the age of 37), the Archdiocese of Melbourne accepted the survivor's complaint and he was referred to its compensation panel for a settlement. 
O'Keeffe died in 1984. He was never punished for his actions. 
Father Victor Rubeo

Image: ABC News
Rubeo was at the Doveton parish from the late 1970s to the mid-1980s, although his crimes were spread over three decades in the Melbourne Archdiocese. He was removed from Doveton in 1984 after allegations of an affair with a parishioner.
Rubeo came to the police's attention in 1996. A woman contacted the Melbourne Archdiocese claiming Rubeo had committed serious sexual assault against her at Doveton in the 1980s. The Archdiocese did nothing. Instead, the woman was advised by Broken Rites to talk to the investigators at the Sexual Offences and Child Abuse Unit of the Victoria Police. 
During a police interview, Rubeo rejected the woman's allegations but admitted to "a few" less serious offences in his previous 30 years, including the grooming and sexual abuse of twin boys in Laverton. 
Rubeo gathered a large following of altar boys (including the twins) and would invite them to his parish house for help with their homework. Boys were welcome to stay at his house overnight, and he sometimes gave them alcohol. He also took boys on trips out of the area, out of the state and overseas. 
Parents trusted Rubeo but he secretly took advantage of the boys, especially the twins. He taught them about "sex" separately and invasively rubbed their genitals. It was not until the twins were in their forties that they revealed the abuse to each other and reported it to the church in 1994.
No action was taken until 1996.
Rubeo was given a two-year good behaviour bond. He was not removed from the priesthood, but it didn't take long for parishioners to find out what he had done, leading to his retirement.
Rubeo was due to appear in court to face more allegations from the twins in December 2011. However, he died a few days beforehand. 
Victorian newspapers refused to publish when and where his funeral would be held. Still, it was soon revealed that the funeral was held at St Paul's Church in Coburg and several Melburnian priests were in attendance to celebrate his life.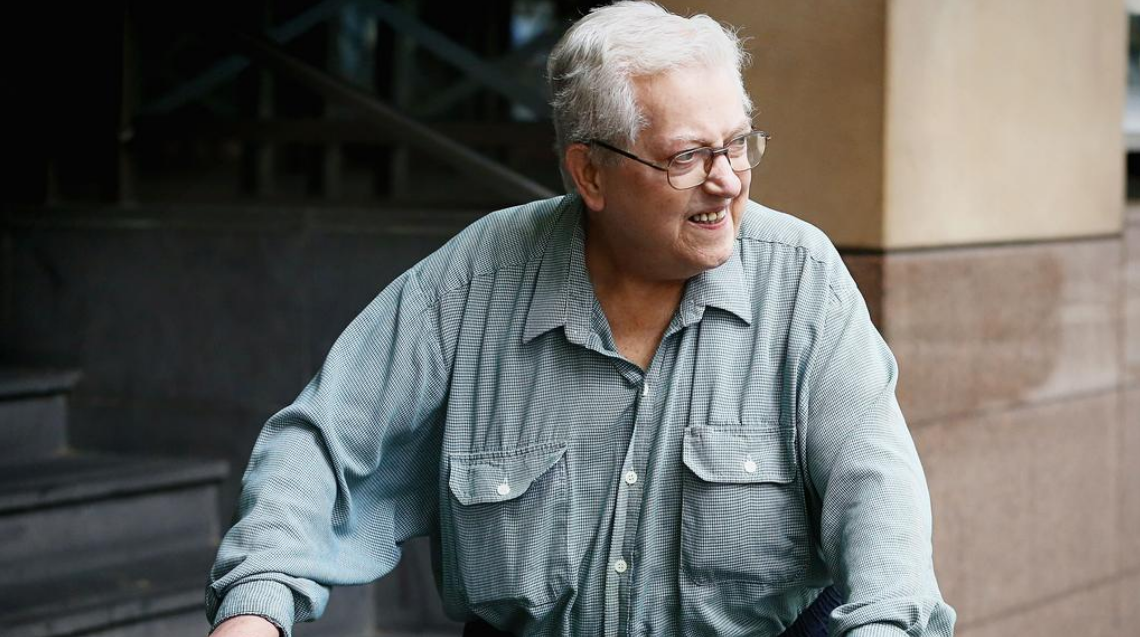 Image: Herald Sun
Father Wilfred "Billy" Baker was at Doveton between 1974 to 1975. He also served at a string of other parishes. Wherever he went, he was known for hanging around children and was a notorious advocate for masturbation — he talked about it all the time to children and priests alike. 
In 1999, Baker pleaded guilty to 16 counts of indecent assault and one of gross indecency involving eight boys between 1950 and 1979 (including victims from Doveton). Baker abused the boys in his parents' home in Maryborough and often gave them alcohol before going to bed with them. 
His victims ranged from 10 to 13 years old. 
He was sentenced to four years in jail with parole after two. After he finished his sentence,  more victims came forward, and he was scheduled for the Melbourne County Court in early 2014. However, Baker died in February at the age of 77. 
His death was kept a secret for 12 days until his funeral was completed. 
A parish priest was horrified by the crimes of his predecessors; described Doveton as a "crime scene"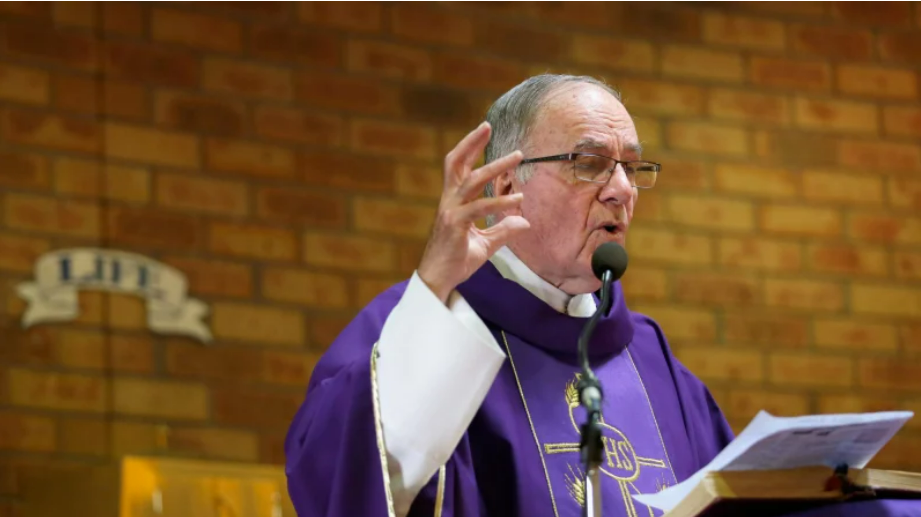 Image: The Age
In 2016, Father Michael Shadbolt was the Holy Family Church parish priest in Doveton. When the parish was thrown into the public eye, Father Michael told The Age he was "horrified" by the allegations against Fathers Searson, O'Keeffe, Baker and Rubeo. 
He knew Searson in 1996 when they were both priests in the area. However, he had no idea that Searson was a paedophile. 
"In a way, I'm horrified… but I also guess, in a sense, I'm not surprised because he did seem a very strange personality," he said.

"I'm possibly living in a crime scene. It's quite sad. Perhaps the presbytery is where some of the crimes were done, I don't know for sure. I like the house, but since this stuff has come up in the last couple of years, you can't help but have some feelings that it's my home, but it also has a dark history."
Father Shadbolt also said that the church is now viewed as "a hotbed of clerical depravity" and the parishioners feared the church would be attacked. However, he also told parishioners the church deserved the "blowtorch treatment" from the media and "everybody else", saying what happened there was a "terrible thing". 
George Pell failed to provide evidence that there was a hearing in 1997 regarding Searson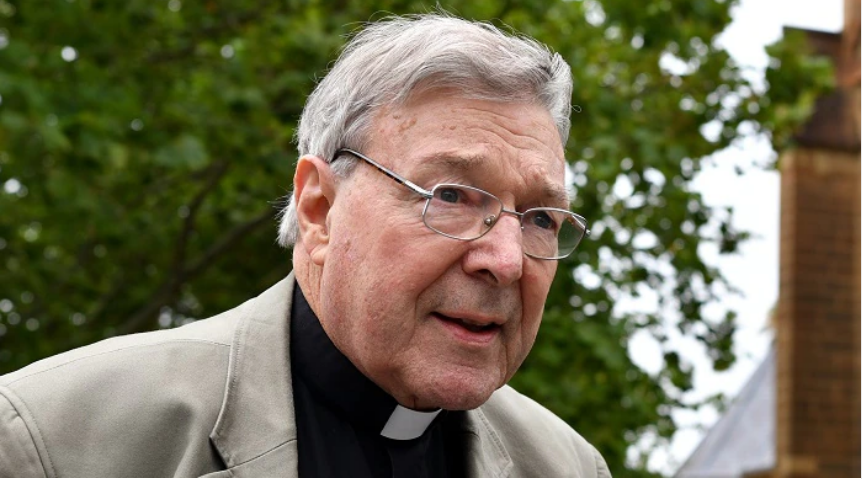 Image: ABC News
The ABC's Four Corners program, In the Name of the Law, revealed that then-Archbishop of Melbourne George Pell failed to provide oral evidence during the Victorian Parliamentary Inquiry* that the church had held a private hearing in 1997, finding Searson guilty of the sexual abuse of two girls. Instead, Pell claimed that Searson had "never been convicted of a sex crime". 
"There might be victims. He was convicted for cruelty. But speaking more generally, I totally reject the suggestion," Pell said at the time.
Pell, the regional bishop in the 1990s, did not refer to the 1997 hearing and said he "certainly did not do nothing".
"I was sent back to Searson to tell him to follow the protocols correctly because people were saying he was misbehaving. He was furious at that… He denied everything and anything."
After the program aired in 2014, Victorian Labor MP Frank McGuire (who conducted the Victorian Parliamentary Inquiry) made a statement to the Victorian Parliament, suggesting an independent investigation into the Holy Family School in Doveton specifically. 
"I call on Cardinal Pell to explain to the Royal Commission whether Searson was convicted under the Melbourne Response, the system Pell established, but a conviction Pell failed to reveal during his testimony to the parliamentary inquiry," Mr McGuire said.

"When I pressed Cardinal Pell on whether he understood how victims regarded what happened as hear no evil, see no evil, say nothing evil about the church, Cardinal Pell responded: 'I think that is an objectionable suggestion, with no foundation in the truth. No conviction was recorded for Searson on sexual misbehaviour.'"
*Victorian Parliamentary Inquiry into the Handling of Child Abuse by Religious and Other Organisations.
It's never too late to seek justice
Fathers Peter Searson, Thomas O'Keeffe, Victor Rubeo and Wilfred Baker escaped conviction through death — but that does not mean it's too late for you to seek justice. If you believe you were abused at the Holy Family Church or Primary School in Doveton, we want to hear your story. 
Kelso Lawyers has helped hundreds of institutional abuse survivors achieve compensation and formal apologies from the Archdiocese of Melbourne. Our team will do whatever it takes to ensure you receive appropriate compensation for the abuse and years of trauma you have endured. 
Get the justice you deserve with Kelso Lawyers. We want to hear your story. Call (02) 4907 4200 or complete the online form before you accept payment from the National Redress Scheme.