Born in County Leitrim, Ireland, on 5 October 1888, Paul Keaney migrated to Australia in 1911. After becoming a Christian Brother in 1916, Brother Keaney would go on to have an illustrious career as an educator. 
The towering, physically imposing Brother Keaney earned praise for his ability to reform troublesome boys. He even earned a Member of the Most Excellent Order of the British Empire (MBE) and the Imperial Service Order (ISO) for his efforts in 1953. 
But for the boys in his care, the larger-than-life character was a bullying tyrant and, as the 2014 Royal Commission into Institutional Responses to Child Sex Abuse would prove, the head of a shocking paedophile ring that exploited vulnerable boys in the care of the Christian Brothers at Bindoon. 
Brother Keaney — Bindoon Boys' Home's resident monster
Keaney worked at St Vincent's Orphanage, South Melbourne, then moved to Perth in 1919 to work at St Peter's Intermediate Orphanage and farm for boys at Clontarf, then taught at Christian Brothers' College, Fremantle, and returned to Clontarf as Superior in 1924. 
Construction at Bindoon began in 1939, with Keaney arriving in 1940. Boys laboured to construct the buildings until 1953. 
Ostensibly to teach the boys a trade, the children were forced into labour to construct the grand buildings at Bindoon. Working barefoot with no safety gear, the boys endured blisters, burns and sores as they painstakingly constructed the buildings.
Bindoon was no doubt impressive to visitors, but the bricks and mortar of those buildings were mixed with the blood, sweat and tears of young boys thanks to the brutal rule of Brother Keaney.
The boys survived on a breakfast of thin porridge while Brother Feaney tucked into his bacon and eggs on toast. Hungry boys resorted to stealing scraps meant for the pigs and were roundly thrashed for their efforts.
At night, after days spent labouring in all weather on near-empty stomachs, the boys lay on urine-soaked mattresses. 
Former Bindoon inmate John Hennessey remembers:
"You'd go to bed at night-time fearing that someone was going to come to your bed and pick you up."

"We used to go to confessions and tell them all sorts of things. And we didn't know that the priest also was a paedophile."
Humiliation and physical abuse were routine. Boys had their trousers pulled down in front of the other boys and were beaten with belts. 
Not content with committing atrocities himself, Keaney fostered a culture of abuse that saw older boys encouraged to rape, beat and humiliate younger, weaker children. 
Little boys lost — the tragic false hopes of the Home Children Scheme
Many of the inmates at Bindoon were orphan migrants from the United Kingdom and the British territory of Malta. 
Founded by Annie MacPherson in 1869, the Home Children Scheme saw over 100,000 unwanted children sent from the UK to Australia, New Zealand, South Africa and Canada over a period of about 100 years. 
The Scheme also rounded up vagrant or homeless children and shipped them overseas to Commonwealth territories, theoretically in search of a better life. 
Under this Scheme, boys were shipped to Western Australia, with some washing up at Bindoon Boys Home. 
The boys were sent to Australia with the promise of sunshine and adoption by loving families, but the reality for most was very different.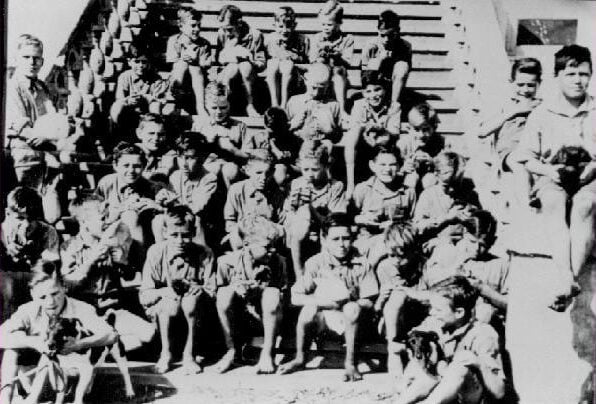 Image: Find & Connect
John Hennessey, who came to Bindoon under the Home Children scheme, remembers the day he learned about Australia at the orphanage in Bristol. 
"I remember one day – it was a Sunday – these three Christian Brothers came to the hall and the nuns told us the Brothers are looking for children to go to Australia."

"They said 'You go to Australia – kangaroos will take you to school, there's fruit everywhere'. We were only little kids and this was music to our ears." 
Despite being an immigrant himself, Keaney showed no sympathy to John and the other boys who found themselves in a strange, harsh land, instead treating them with nothing short of contempt and cruelty. 
Brother Keaney of Bindoon was supposedly "the Orphan's Friend"
Bindoon was, in theory, a place of education. However, under the rule of Brother Keaney, Bindoon wasn't so much a school as a labour camp. 
Far from receiving an education, the boys were routinely beaten, humiliated and abused. One former inmate recalls: 
"There wasn't much in the way of schooling. I'd always been good at school in England but it pretty much ended overnight. A lot of the boys at Bindoon never learnt how to read or write."
John remembers a particularly horrific beating from Brother Keaney after he discovered John taking grapes from the vineyard: 
"He lashed out with his walking stick, it had a metal bottom to it, and he belted me over the head and what have you." 

"Then he stripped me, put me over a chair and nearly flogged me to death.

"Abuse and bullying was just the norm."
John believes that this particular beating left him with a stutter he suffered with for the rest of his life. 
In 1953, a year before he died, Keaney was appointed MBE and ISO, an indication that his brutal methods were officially approved by his religious leaders, who would have recommended him to the Governor-General for the monarch's highest honours.
At his funeral in February 1954, boys from the home at Bindoon, no doubt under instruction, lined the road as a guard of honour. Referred to as "the Orphan's Friend" in an obituary, a statue in memory of Keaney was erected at Bindoon, and the chapel and school were both named after him. 
Decades later, the Christian Brothers were made accountable for the abuse
In 1989, on behalf of the Child Migrant Friendship Society of Western Australia, Western Australian Senator Jean Jenkins raised the issue of child abuse in the Australian Senate. 
In 1994, a 30,000-signature petition presented to the West Australian Parliament demanded an inquiry into the abuse that took place at Bindoon and three other Christian Brothers institutions – Castledare, Tardun and Clontarf. 
In December 2014, Royal Commission into Institutional Responses to Child Sexual Abuse determined that: 
"Christian Brothers leaders knew of allegations of sexual abuse of children at four WA orphanages, including Bindoon, and failed to manage the homes to prevent the systemic ill-treatment for decades."
One revelation from the Commission was that the Christian Brothers held  "no sentiment of recognising the suffering of the survivors," concerned only with the financial impact of the proceedings. 
Evidence was given at the Royal Commission that Keaney hadn't just tolerated sexual abuse at Bindoon but regularly perpetrated abuse himself. 
In 2015, after the Royal Commission hearings, the Christian Brothers agreed to re-examine settlements and review those found to be "unreasonably low". As a result, about half of the 130 requests for review received increased payments.
In 2016, more than 60 years after his death, the Christian Brothers dismantled Keaney's ornate marble tomb and moved his remains to an unceremonious plot in Karrakatta Cemetery.
Decades after Keaney's death, the lost boys who were victims of his abuse live on with the physical and mental scars of their time at Bindoon.